The fighting genre may have a decrease in popularity, but we all know what a stress relief a good fighter can be. So we've made a list of the best fighting games for you to enjoy and hope they will come to your taste.
Mortal Kombat X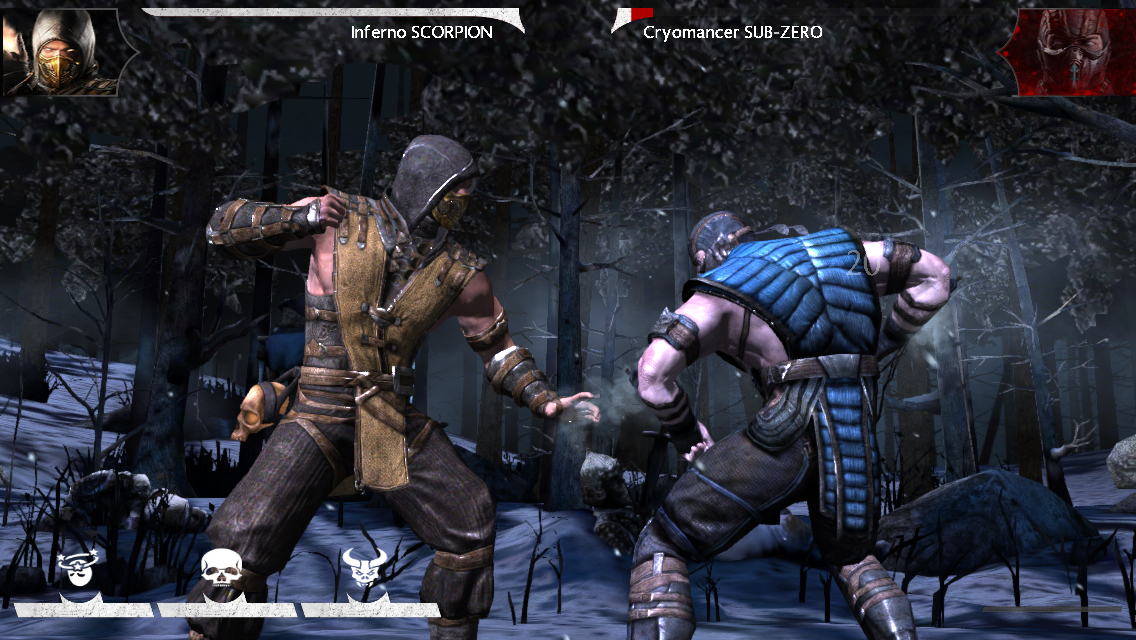 Mortal Kombat X is a well-polished transition, not a port, to mobile devices. The game is optimized and simplified, but the gameplay is still as violent and gory as the rest of the franchise.
The gameflow is smooth and fast-paced. You get two teams of three fighters and can switch the team, when one is out of energy. There are two in-game currencies, Koins and Souls, which are required to unlock new fighters and equipment and to refuel team's energy.
The controls are designed for touchscreen, so all the fighting is done through taps and slashes. You tap to punch, double-tap to perform series of punches and two finger-touch to block. Fatalities are still here but are activated much easier – just with a gesture, rather than a complex combination. Each fighter holds similar attacks patterns, but juice combats up with unique special abilities.
The graphics are on point with the good old Mortal Kombat's gruesome action. High-quality visuals reflect on the storage value – the game will cost you 2 GB of space.
Price: free
In-app purchases: You can buy various bundles of in-app currencies, Koins and Souls. The prices are starting at $1,99.
Restrictions:
The game uses standard energy system: you need to wait or use souls to refuel your team's energy.
Real Boxing 2 ROCKY
Real Boxing 2 Rocky is a sequel to one of the best boxing simulators for mobile platforms. The game features 40 Rocky customization items, opponents from the Rocky franchise, including Apollo Creed and Ivan Drago, and a brand-new career mode.
You create a customized boxer and lead him through multiple fights across continents to the ultimate fight with Rocky Balboa. The controls aren't too complicated, all the moves have two directions for each hand. The set of moves is quite diverse: you can strike a direct blow, hook, uppercut, blow to the body, block or try to turn aside. Each fighter has health and endurance indicators. As you progress through the gameplay, you enhance your fighter's skills and the fights become more complicated.
The game is executed in gorgeous 3D graphics and looks stunning. You fight on the various arenas in front of a massive audience – Real Boxing 2 Rocky does not lack staginess.
Price: free
In-app purchases: Packs of in-game currency, costing from $1.99 to $19.99
Restrictions:
Timers for the skills improvement
Ads for IAPs
The King of Fighters '97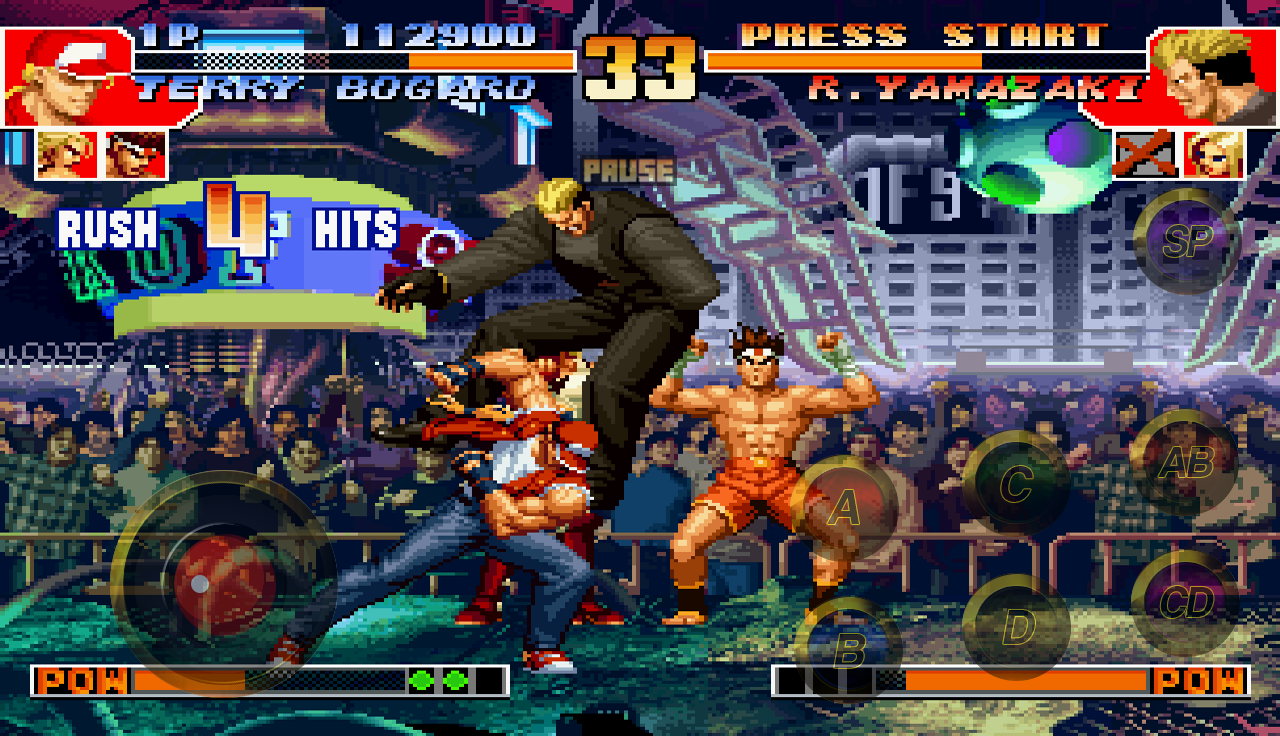 The King of Fighters '97 is an old-school fighting experience, a complete port of the original canonical game by SNK.
You create your fighting team of three, choosing among 34 original characters. It takes time and a fair amount of experimentation to find a perfect team and learn multiple characters. The fighting itself requires lots of practice, as the game gets pretty challenging and the set of various attacks and moves combinations is impressive. You have to figure things out by trial and error during the fights as no training mode is available. There is an option of Extra and Advance fighting modes for experienced players. You can play against AI or compete with a friend via local multiplayer.
The game performance on the mobile devices is fluid. The pixelated art looks stunning with a bunch of colorful characters carrying out an array of complicated moves.
The virtual controls are customizable, you can resize the on-screen buttons, but they are not responsive enough. Good news: the game supports Bluetooth controllers. You can totally pull off solid attacks with touchscreen controls, but Bluetooth ones will make the fighting experience more smooth.
Price: $2,99
In-app purchases: No IAPs
Restrictions: No restrictions
Injustice: Gods Among Us
It's a DC fighter, a combination of RPG and CCG, with stunning graphics, executed in 3D and simple, yet fun and engaging gameplay.
You get to form a team from the roster of DC Universe heroes and villains – Superman, Batman, Wonder Woman, the Joker and so on. They fight jointly to deal with the mess that goes down according to the plot.
The fighting mechanics are gesture based – tap for light attack, swipe for strong. You can switch between characters on your party to give others time to heal – just tap on the character's icon.
Leveling system lets you boost your character's' health and strength, as well as use more dreadful special powers. You earn coins through fights and can spend them on booster packs with characters and support cards to enhance various attributes. Coins and special upgrade cards also boost and unlock special attacks.
Price: free
In-app purchases: You can buy different packs of the in-game currency – Power Credits, energy and characters of various rarity starting at $1,99.
Restrictions: The game is free of any limiting timers.
The sequel Injustice 2 is on the way, bringing brand new characters and lots of new modes. The release date remains unrevealed, but it will be available later this year the developers claim.
Marvel Contest of Champions
If you've been waiting for the Marvel's alternative to the Injustice: Gods Among Us, Marvel Contest of Champions is the one. It's simplified, yet incredibly fun fighter, involving bursts of swipes, no extra complexity. You'll enjoy the game unless your demand is an excess depth and complex set of moves.
It would be fun to see the best Marvel superheroes clashing in the fight with each other, wouldn't it? Contest of Champions offers you that. Inspired by the Marvel limited comics of the same name, the game holds quite a selection of universe's heroes and villains taking part in the fighting contest. As you progress, you unlock more characters to enlist in your party and can enhance their powers.
The combat is straightforward and fast-paced. You get single-round fights lasting less than a minute. The controls are smooth, simple and intuitive, designed for touchscreens. The set of attacks is limited and all the fighters are almost the same, with a single special attack for each character and very little tactics required. However, this simplicity doesn't make the gameplay less exciting and the rock, paper, scissors' approach adds to the gameflow unexpectedness.
Price: free
In-app purchases: Game has an extensive selection of IAPs, costing from $4.99 to $99.99.
Restrictions:
There is a time limit in the Versus mode: each character must wait two hours after an online fight to combat again.
Gacha approach to getting more characters.
Shadow Fight 2
You take control over a ninja, who accidentally opens a crypt and unleashes demons, which reduce him to a shadow. Now he has to fight through the demons, get to their masters and defeat them in the one-on-one battles. This mission is challenging and incredibly engaging.
Your ninja progresses constantly, the fights become more difficult and the enemies tougher. As you beat shadowy opponents, you gain gems to buy better equipment and improve your warrior. This continuous progression system makes the game quite addictive.
The visual style of the game is remarkable, animations are fluid and smooth. You see the character and his enemies as shadow silhouettes fighting against beautiful backgrounds. And oh boy those shadows look good: detailed and polished, they move so realistically that it gives a three-dimensional feel.
Price: free
In-app purchases: Various packs of gems and coins.
Restrictions:
Timers for energy bar refill: it's enough for 6 battles, and then you'll have to wait or use gems
All the games above are well-worth your attention, we've had a great time playing them. Do you have any other favorite fighters, we've missed out? Don't hesitate to share, we would like to discover new good games of the genre.